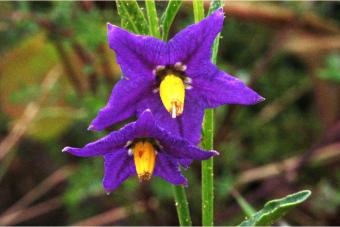 The vast Solanum or Potato family embraces plants of great beauty from all over the world. Many varieties are remarkable for their ample foliage. Others are grown for their brilliant fruits of many colors, and often of great food value. While others carry handsome flowers, and in some cases , the charm of foliage, fruit, and flower is found in same plant.
How to Grow
They are equally variable as to habit, many being stout shrubs or low trees, and others climbing or creeping plants. The climbing kinds show beauty of flower and the shrubby species beauty of leaf and fruit. To do well they need a rich moist soil, with shelter from wind. Those kinds hardy enough to be grown against walls in the open are best in rather poor dry soil, for if grown too freely the shoots perish during winter. Seed is easily obtainable, and if raised early in heat the plants are ready for putting out by the end of May or early in June.
Solanum Pictures
Related Flowers
Solanum Arboreum
Solanum Arboreum - A shrub with handsome flowers, hardy in mild seasons and on sheltered walls near the south coast. The leaves, 8 or 9 inches long, are set with sharp brown spines, and the large flowers in clusters of six to nine together are pale blue or mauve with deep orange anthers.
Solanum Atro-Purpureum
Solanum Atro-Purpureum - An erect plant with purple leaves and stems, 3 to 6 feet high. The deeply-lobed long-spined leaves are threaded with pale veins, and the small purple flowers yield small round berries. Brazil.
Solanum Balbisi
Solanum Balbisi - A shrubby plant hardy against walls in sheltered southern gardens, with slender straggling stems and deeply-cut leaves armed with pale brown spines. The pale mauve flowers are large, succeeded by bright scarlet berries like a small cherry and sweet. Syn., S. sisymbrifolium. This can be treated as a tender annual, or grown from cuttings.
Solanum Betaceum
Solanum Betaceum - A small tree from S. America of distinct appearance, with stout smooth stems and large oval leaves of fleshy texture, veined with purple in the variety purpureum. The flowers are small, followed by orange-red or scarlet fruits like a hens egg for size and shape, hanging in showy clusters and so thickly that a thousand hang on a single mature plant in its own land. This is one of the best, of rapid growth, and easily handled.
Solanum Ciliatum
Solanum Ciliatum - With showy scarlet fruits, round and like a small Tomato, of dry texture, and useful for winter decoration, as they will hang for months among the glossy spined leaves without spoiling. The variety macrocarpum is the best.
Solanum Crinitum
Solanum Crinitum - A stout shrubby plant of 5 or 6 feet, with leaves 2 feet or more long, of velvet texture and tender green tint, threaded with purple veins set with spines. The deep blue flowers are 2 inches across and hang in heavy clusters, followed by fruits an inch or more in diameter. This grows strongly in sheltered southern gardens. Increase by suckers. Guiana.
Potato Tree
Potato Tree (Solanum Crispum) - Reaches 15 or 20 feet as a bush in the open, and exceeds this against a wall. It is one of the hardiest kinds, resisting as far north as the Trent on warm soils, though dying to the ground in a hard winter. The leaves vary in size, being much larger towards the base than at the tips of the shoots, and waved or loosely crisped around the edges. The flowers are a pretty bluish color, fragrant in summer.
Solanum Giganteum
Solanum Giganteum - A tree of 25 feet in its own land, with a trunk as thick as a mans thigh. With us it is 5 or 6 feet high, prickly, and covered in white wool; the leaves unarmed, deep green above and whitish beneath; the flowers pale blue, not showy; the berries red and as large as peas. India.
Jasmine Nightshade
Jasmine Nightshade (Solanum Jasminoides) - A charming summer-leafing climber, and the most beautiful of the family, hardy anywhere in the south of Britain, where its wreaths of starry white flowers are freely borne upon a wall or house-front, even in a north aspect. Grown out of doors and in a strong light, the flowers are more or less shaded with greyish-blue or purple, and there is a charming pale bluish variety in which the color seems fixed. The flowers are pure white if grown in partial shade, or in a north house. The shoots should be well cut in after frost is over in spring. Increase from side-shoots taken with a heel.
Kangaroo Apple
Kangaroo Apple (Solanum Laciniatum) - A stout rapid-growing plant from the antipodes, with dark fleshy stems growing 4 to 6 feet in a season; much-divided leaves, dark violet flowers, and fruits the size of a small plum, changing from green to yellow and red. One of the easiest to grow, and nearly hardy on the south coast.
Solanum Lasiostylum
Solanum Lasiostylum - A low shrub of the W. Australian deserts, with white woolly leaves, spiny stems, and purple flowers. The young plants need a warm place and careful watering.
Solanum Marginatum
Solanum Marginatum - A handsome freely-branched species, the stout woody stems coated with white wool and armed with prickles. The leaves are oval, green above with a waved white margin, and white underneath and while young the drooping white flowers are purple at the centre with orange stamens, and give place to yellow fruits like a small Tomato. Abyssinia.
Solanum Platense
Solanum Platense - A true creeper, which instead of rambling over the surrounding vegetation runs over the ground, rooting as it goes and seldom rising more than a foot high. It is found on the banks of the La Plata as a carpet of grey downy leaves, with white bell-shaped flowers on short erect stems, followed by sweet fruits of the same color.
Solanum Robustum
Solanum Robustum - A much-branched shrub of 4 feet, its stems and leaf-ribs set with sharp spines and dense red hairs. The leaves are large, sharply oval, and bluntly lobed, or nearly triangular higher on the stems, green and velvety above, yellow and woolly beneath. The flowers are white with orange stamens, and the rounded brown berries like a small cherry. Brazil.
Solanum Torreyi
Solanum Torreyi - A free-flowering perennial hardy in the south of Britain with root-protection. The violet or white flowers are large and handsome, followed by yellow fruits an inch in diameter. The leaves are waved like an Oak-leaf, 4 to 6 inches long, and covered beneath with mealy down. Texas.
Solanum Wendlandi
Solanum Wendlandi - The noblest of Solanums, and one of the handsomest climbing plants for a cool greenhouse, flowering profusely through a long season, and at its best about August. It has been tried in the open air with some success in warm gardens south of the Thames and in sheltered places along our southern coasts. The fleshy stems climb freely, bearing sparse soft spines. Leaves variable in size and shape, often cut into deep lobes. Flowers in large drooping clusters of a soft lilac-blue color and 2 inches or more across; those shown in the engraving form only a small part of the perfect cluster, which often measures a foot across. The leaves fall in winter, when the plant should be kept fairly dry at the root and the shoots well cut back before again starting into growth. Increase by cuttings of tender side-shoots, taken with a heel from plants started early under glass. Costa Rica.