Grow Vegetables in Containers!
It's easy to grow vegetables in containers. Whether you've got a yard, patio, or windowsill, growing food is an option regardless of your landscape!
Herbs Love Containers
Herbs are probably the most simple thing to grow in pots. They look great in a kitchen window or out in the yard in larger containers. Imagine having some fresh rosemary, sage, or thyme at your disposal whenever you want.
Kale and Hearty Greens
Hearty greens such as kale can do well in a container if they are in a place where they can get enough light. A great thing about containers is that you can move them around as the seasons change and the sun hits your yard in different areas at different times of day.
Containers and Small Spaces
Sometimes a small space can be made very lush and productive with a few containers scattered around. Even if you've only got a small porch, make use of it!
Swiss Chard
If you want to grow vegetables in containers, plants like Swiss chard might be a good choice for you. These green leafy veggies will make a great salad and will also perk up an otherwise drab patio or porch.
Tomatoes in Containers
Tomatoes do great in containers! Position them so that they get maximum light, and come late summer you'll have tons of ripe, red fruits fresh from your container garden.
Peppers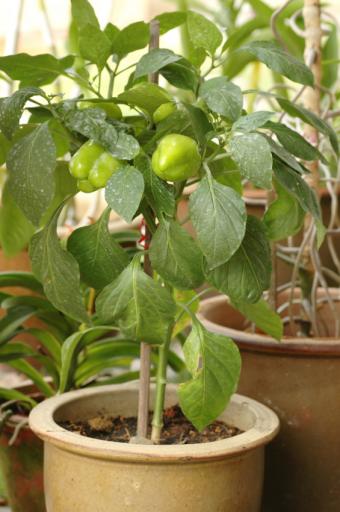 Peppers also do very well on porches and patios. Make sure you get a variety that will do well in your area, otherwise your plants won't yield a great deal of food.
Radishes
Who knew you could grow radishes anywhere but the ground? Shallow rooting vegetables such as these do well in small containers and raised beds. Radishes are particularly fun for kids to garden since they grow fast and yield a colorful result.
Butterhead Lettuces
Butterhead lettuce varieties do great in pots. You can plant a few starts in a large bowl and place it in your kitchen window, pinching off a few leaves here and there to nibble.
Grow Food Whever You Are
Growing vegetables in containers is a great way to improve your diet and get a huge sense of satisfaction out of your garden. What's better than munching the fruits of your labor on a hot summer day?
To learn more about vegetable gardening, watch Training for How to Grow a Vegetable Garden.