Hydrangea Varieties
Growing hydrangeas will add beauty and interest to your landscape. With so many varieties to choose from, you'll want to include several in your planting areas.
This one, a Bigleaf type, is called Hydrangea macrophylla 'Izu No Hana'. It grows in Zones 6 to 9 and likes full sun.
Endless Summer
Hydrangea macrophylla 'Endless Summer' is a very popular Bigleaf variety. It prefers part shade in Zones 4 to 9.
Beni-gaku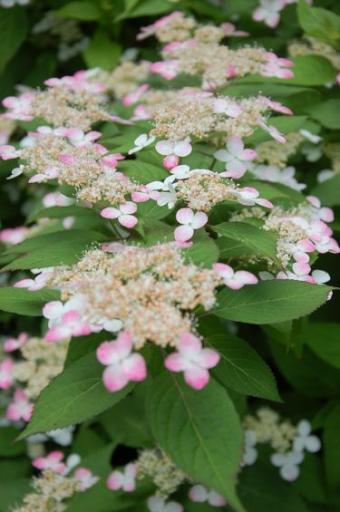 Hydrangea serrata 'Beni-gaku' is a Bigleaf that does well in Zones 6 to 8 and likes full sun.
Mihagi-Nishiki
This beautiful Bigleaf variety, Hydrangea serrata 'Mihagi-Nishiki', grows in Zones 6 to 9 in full sun.
Snow Flake
Hydrangea quercifolia 'Snow Flake' is an Oakleaf type that grows in full sun in Zones 5 to 9.
White Dome
Hydrangea arborescens 'White Dome' is a Smooth hydrangea. It grows in full sun to part shade in Zones 4 to 9.
Climbing Hydrangea
This Climbing type is called Hydrangea anomala ssp petiolaris. It does well in sun or shade and thrives in Zones 4 to 8.
The Swan
This Peegee variety, Hydrangea paniculata 'The Swan' is beautiful in Zones 4 to 9 and prefers full sun. LoveToKnow would like to thank W. Atlee Burpee & Co./Heronswood Nursery for permission to use these lovely images.
For more stunning images, see
Tropical Plants for Outdoor Summer Containers
.