When the days start to get cooler and the temperature drops, don't give up on your garden. There's still plenty of time to display fall potted plants before the coldest months of the year set in. Discover a plethora…
Keep reading »
Browse Topics in Garden Tools and Supplies Hub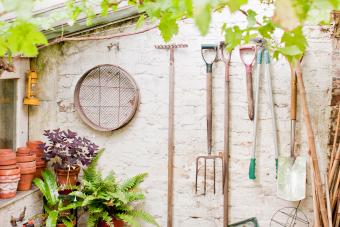 Garden tools are an important part of garden supplies. The right garden tools can make taking care of your garden easy and productive.
Choose Quality Garden Tools and Garden Supplies
You want to select quality garden tools and garden supplies. For example, you should choose garden tools that are impervious to rust. The ideal tools are made of stainless steel or an aluminum alloy that are rust resistant.
Ergonomic Garden Tools
Not all garden tools are equal. You want tools that you can use on a daily basis that are economically fashioned. Some tools are made for people with large hands, while others are crafted for smaller hands. Ergonomic tools may have silicone grip handles or handles with easy grip indentations.
Gardening Tasks That Require Specific Garden Tools
There are specific garden tools for the various tasks that are part of gardening. For example, specific garden tools and supplies are designed for vegetable, herbs, and flower gardening. Whether you have a raised bed garden or a field garden, you will need these hand tools. A few of these tools include, hand weeder, trowel, transplanter, bulb planter, hand fork, hand rake, garden seeder, spray bottle, carry bag, two or more pairs of gardening gloves, carry tote, cultivator, kneeling pad, and other tools.
Garden Tools for a Home Vegetable Garden
You may want to put together a garden tool kit that includes rakes, shovels, hoes, and other hand tools. Your kit could also include a floating row cover to protect early crops from harsh weather or insect. If you make your own mulch or you need to sift soil, then you definitely want to include a soil sifter in your garden kit.
Garden Supplies You'll Need
In addition to the various garden tools required, you'll need garden supplies. Many of these supplies support the various tools you use when gardening. For example, you'll need a pH soil testing kit so you know what type of amendments you need for your soil, if any.
Plant Supports and Garden Supplies
A variety of plant supports are helpful for flowers and vegetables, such as garden stakes and plant twine/rope. A few others include tomato cages, towers, trellises, tripods, lashing cords, foam twist ties, and grid clips.
Pest Control Supplies
Pest control requires various tools, such as sprayers and perhaps protective masks. If you're using chemical sprays, you'll want protective clothing, goggles, and a hat to prevent blowback from changing winds. You'll need separate containers for different types of chemical products, such as fungicides, fertilizers, specific insect sprays. If you're an organic gardener, you won't require the kind of pest control tools and supplies.
Must-Have Garden Tools
If you have a large garden, then you'll find a garden tractor is a vital garden tool. Most garden tractors can be fitted with accessories for various yard and garden projects. For example, a lawn sweeper can be hooked up to a garden tractor or lawn mower to clean up cut grass or used in the fall to sweep up leaves.
Garden Tools for Lawn Care
If you have a lawn, you may need a lawn sprinkler system. Keep in mind that depending on the zone where you live, you may need to winterize your sprinkler system. This is something to consider when shopping for a lawn sprinkler system. You can add this task to the other ones you perform each fall season.
Necessary Garden Tools and Garden Supplies
A garden hose is one of the most valuable garden tools you can have. Another convenient tool that can quickly become a necessity is a weed eater. As you develop your garden space and increase the types of plants you grow, you'll discover you need different tools. Whenever you add plants in your garden or decide to try growing a new vegetable, you may need additional supplies and tools.
Practice Working With Garden Tools
If you are unfamiliar with a garden tool, you should practice so you are comfortable using it. The more familiar you are with your garden tools, the more likely you'll use them frequently, reaping the benefits they can provide.