Backyard gardens are taking off as more people become aware of the benefits of growing their own food. Raised bed gardening is a popular alternative to traditional gardening, although the initial investment is higher when compared to gardening directly in the ground. Raised beds are also a great option for rocky areas with poor, clay, or waterlogged soil, since you can fill them with high-quality growing medium. Although you can build your own raised beds if you like, many people find it more convenient to build their beds from prefabricated kits that provide the additional benefits of quick assembly and uniformity.
Raised Bed Kits for Gardeners
A wide variety of ready-to-install kits are available to gardeners who want to try their hand at raised bed gardening. These kits come in different designs, so you can choose the style that you think will work best for you. In addition to looking good, choosing a uniform bed style can help you make the most of the space you have available. Since raised beds are a long term investment, it is always preferable to select the best your money can buy. The following kits will give you a good idea of what's available.
Cedar Kits
The natural oils in this fragrant wood protect it from insects and rot. Cedar can last up to 15 years and weathers beautifully, which adds to its esthetic appeal. Natural, untreated wood is the best choice, especially if you plan to grow vegetables.
Home Depot offers Greenes Fences ready-to-assemble cedar kits with dovetailed corners. Bed kits range in size from 4' x 4' x 7" to 4' x 8' x 17.5". The price of these beds for one of the smallest kits starts around $50 and ends just over $200, which makes them an economical choice if you need several for your garden. The reviews for this raised bed kit are excellent, and customers report that the kit was easy to assemble and all boards were straight.
Get 100% FSC certified cedar when you purchase a Minifarm Box kit. Four different sizes are offered at different dimensions, ranging between $250 and $370. Kits don't require any tools and hardware is made of rust-free aluminum.
Eartheasy has 2- to 4-foot wide stackable beds made from Oregon cedar. Length options range from 2 feet to 20 feet, and the kits come in heights that range from 5.5 to 33 inches tall. Prices for kits ranges between about $50 to $2,000, depending on size and whether you select an optional trim pack. Trim packs result in a 10 year limited warranty compared to a 5 year limited warranty without trim pack option. Customer reviews are positive with an average 5/5 star rating. Customers praised these kits as easy to assemble and durable.
Metal Kits
Planter beds can be fashioned out of iron sheet metal, galvanized iron, copper, or aluminum. The rust on iron and the patina on copper can both be appealing in certain settings. Options include:
At Tractor Supply Co., you'll find the Stratco Raised Garden Bed in an appealing slate gray color. It is 46" x 12" x 35" and costs about $50. Shipping is free to your local store.
Get the Veradek Corten Steel Raised Garden Kit from Wayfair. It starts under $300 for the 4' x 4' x 13" raised bed garden. The hardware is invisible, offering a clean look once it's assembled. The rusty exterior is only for looks and will not cause stability issues.
Amazon sells the KING BIRD galvanized steel kit for about $70 to $85, depending on the size selected. White and jade are available in 68" x 36" x 12" and charcoal gray and green are available in 67.2" x 67.2" x 11.8". Paint is not on the outside of the kits. Each kit also comes with tags and gloves.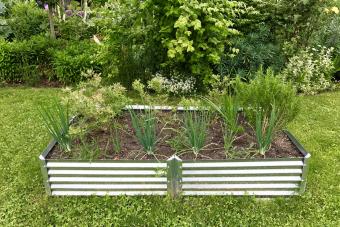 Plastic and Composite Kits
Plastic bed kits can last quite a long time since they won't rot and they're impervious to insects.
BestNest.com makes a vinyl raised bed that can also be used as a sandbox. The large bed is 8 x 4 feet and is guaranteed last without deteriorating or fading over time. Priced around $230 with free shipping, this is a good option for gardeners that want a maintenance-free raised bed.
Gardener's Supply Company sells the Exaco hexagon-shaped high-density polyehtheylene kit for less than $100. It's both UV- and moisture-resistent so it will hold up to exposure. Each kit has six pieces that are 21.5" L x 10" H. Configure it how you desire or add more kits to make a larger raised bed garden.
Frame It All offers multiple kits in various sizes. Consider a unique shape, like the Tool-Free Classic Sienna Raised Garden Bed Garden Star, made of composite. It's 12' x 12' x 11" and has seven different areas for planting. Snap-locket brackets are used instead of nails to fit corners together snugly. Pick it up for less than $300.
Kits From Other Materials
From pine to concrete mixes to fir, you can find kits in a number of materials. Decide what is best for your garden layout and pick the one that appeals to you.
Yaheetech makes a three-teir raised garden bed out of 100% fir wood, available at Amazon. The step-like design is perfect for a small garden and you can do different configurations since they are put together with wood plugs rather than nails. Get it for less than $100.
Bailey Wood Products sells a "thermally modified yellow pine" raised bed in three stock sizes: 3' x 10', 4' x 8', and 3' x 16'. Pricing starts around $240 and up for stock sizes, although custom sizing is also available. Email them directly for information on purchasing.
Durable GreenBed combines woodchips with concrete for a sturdy option. Six sizes and configurations are available, from elevated to stepped. Pricing starts around $313 and you can even order a small sample for less than $8 if you want to see it before investing in the product.

Wooden Raised Garden Bed
Give Raised Bed Gardening a Try
For a relatively small investment, you can try out a single raised bed and see how well you like this style of gardening. If you like the results, you can gradually purchase more kits and convert your traditional garden to all raised beds and reap the rewards year after year.