A hanging plant can completely change the feel of your room, bringing the outside in and adding a vertical design element that can make the ceiling feel higher and the space seem larger. Hanging a plant from the ceiling is a simple process, but there are a few things to keep in mind to prevent damage to your home. Don't stress, though. With a few simple tools and some spare moments, this is a DIY task anyone can do.
How to Hang Plants From the Ceiling Securely
Although the process is super simple, it's important that you hang a plant the right way. After all, you don't want your spider plant coming down on someone sitting underneath it. It will take you about 20 minutes to tackle this job.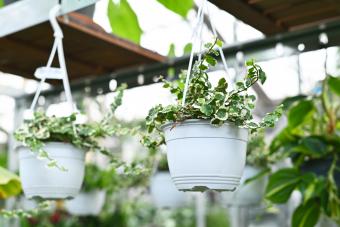 1. Check Your Ceiling
The first step is making sure your ceiling can support a plant. Almost any ceiling is fine, but you should avoid hanging a plant in a ceiling that's made of very thin paneling or tile. The material needs to be reasonably sturdy.
You'll also need to know what it's made out of. These are some of the options:
Drywall - Most homes built in the past 50 years have drywall ceilings. This is likely if your home has drywall walls.
Wood - A wood ceiling usually consists of planks that are fastened to rafters. The thickness of the wood can determine how sturdy it is for hanging a plant.
Plaster - Older homes often have plaster ceilings applied to thin strips of wood called lathes. This is a sturdy material, but you'll need to use care when drilling.
Fiber tile - Rooms with drop ceilings often have lightweight tiles supported on a frame of metal that hangs from the rafters. These can be delicate to work with when hanging a plant.
2. Choose a Hanging Method for Your Plant Hook
The method you use to hang the plant will depend on the material of your ceiling. Keep these tips in mind:
Drywall or plaster - You'll need a drywall anchor or toggle bolt to spread out the weight of the plant and keep the hook from pulling out of the ceiling. You can find these at any hardware store.
Wood - If the wood is thinner than about half an inch, use a toggle bolt just like you would with drywall. If it's thicker, you can use a regular plant hook with nothing reinforcing it.
If you have a drop ceiling, do not drill a hole in the tile for your plant. Instead, you'll need to hang it from the metal frame using a hook that attaches to the metal. You can find these at hardware stores and online at Amazon and other retailers. They support about 15 pounds, so you'll need to stick to lighter plants with this type of ceiling.
3. Gather the Tools You Need
You'll need the plant, of course, plus whatever you'll be using to hang it. This can be a pot with a long hanger, a macramé plant holder, or any other type of plant pot designed for hanging.
Then gather these supplies:
Plant hook large enough to easily hold your plant hanger and with a weight limit that matches your plant
Ceiling or drywall anchor, if needed
Drill
Drill bit slightly smaller than the anchor or hook
Pencil
Measuring tape
Stud finder
4. Mark the Spot Where You Will Hang the Plant
Choose where you'd like to hang the plant. If the spot is in a rafter or stud, you can skip the drywall anchors and drill right into the wood. If not, make sure you use the anchors. You can tell where the stud is by using a stud finder. Use the pencil to mark where you want the plant. It's always a good idea to double check your placement by holding the plant up.
5. Drill a Hole for the Plant Hanger
Use the drill to make a hole where you marked. If you're using an anchor, follow the instructions for the hole size and the installation of the anchor. If you're putting the hook into wood, drill a hole just a little smaller in diameter than the screw for the hook.
6. Install the Hook
When you have the hole (and anchor, if you're using one), it's time to install the hook. Most plant hooks simply screw into the hole when you rotate them. If the hook is hard to turn in your ceiling material, cover it with a piece of fabric to protect it and use pliers to turn it. If you have a different design, follow the instructions for that model.
7. Hang the Plant and Enjoy
Now all you have to do is hang up your plant. If your hook has a clasp or keeper feature, close that to secure your plant. Step back and enjoy the way hanging a plant has made your home more beautiful.
Creative Variations to Try
While the standard hook and hanging basket are proven winners, there are a few super creative and fun ways to hang plants from the ceiling:
Weathered wood - Use ropes to hang a piece of driftwood from your ceiling and then hang several plants from this. An added bonus is that you'll have fewer holes in your ceiling.
Old chandelier - Upcycle an old chandelier into a hanger for multiple plants. You can suspend the plants from the arms of the chandelier.
Ladder - Find a new use for an old ladder by hanging it horizontally from your ceiling near a window. Then hang lots of plants on the rungs.
Shelf bracket - Attach a shelf bracket to the wall near your ceiling and use a hook to hang plants from it. Bonus points if it's a cool old one or a corbel from an architectural salvage place.
Tips for Hanging Plants From a Ceiling in an Apartment
If you're renting and can't use the standard plant-hanging method, there are actually a few ways to hang plants without drilling. Try one of these:
Curtain rod - Plants like light, and most windows have curtain rods. If the plant isn't too heavy, you can hang it from the rod for a similar look to hanging it from the ceiling.
Tension rod - Similar to a curtain rod, a tension rod works pretty much anywhere there are two flat vertical surfaces. You can put on in a hallway or alcove and position it very close to the ceiling for hanging plants.
Freestanding rack - A coat rack, clothes hanger, or other freestanding rack can also work for this. Just position it near a window or anywhere you think your plant will be happy, and you're all set.
Adhesive hooks - If your plant isn't too heavy, you can use an adhesive hook to hang a plant. Look for a design that has a weight rating that exceeds the weight of your plant.
So Many Ways to Hang Plants
There are all kinds of hanging plants to consider, and there are tons of great ways to hang them. Stick to the tried-and-true standard or try something a little different. There's no wrong way to hang a plant as long as it's secure.