Plant Diversity
Incorporate ornamental grasses into your landscaped yard or area as an alternative to shrubs or flowers.
Grasses are pleasing addition to a perennial border because they have a fundamentally different growth habit than most other plants. Rather than another layer of flower stalks, this garden incorporates tall, slender maiden grasses with their airy, dangling seedheads as a graceful element that keeps the overall composition from being overpowered by color. In laying out your own perennial border, experiment by filling in the spaces between flowering species with a selection of small, medium or large grasses in proportion to the size of the neighboring plants.

Contrasting Accent
Ornamental grasses come in an astonishing array of color tones, from deep green to pink and purple. This specimen of Japanese forest grass has striking chartreuse foliage that brightens the understory of the surrounding dark greenery. To incorporate a contrasting accent in your landscaping, look for dark areas that could use a pop of color and add a contrasting shade of grass there.
Waterside Plantings
Seaside sand dunes are typically covered in graceful grasses that can withstand the salt spray and wind of the ocean. Some of these, such as the pampas grass pictured here, are commonly available in nurseries and are some of the only landscaping plants suitable for beach homes. Use a tall species like this for an informal hedge or smaller species, like sea oats, for more extensive plantings at home.
Naturalized Plantings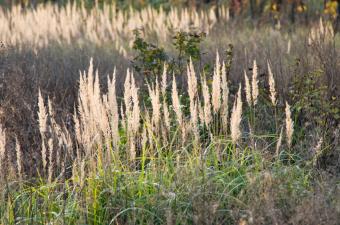 Gentle drifts of large grasses add just the right touch to a naturalized landscape, as this image of Calamagrostis illustrates so well. Their seeds provide forage for birds and wildlife, while their changing moods throughout the season give year round visual interest. Stick with grass varieties indigenous to your area and combine with native trees, shrubs, and groundcovers.
Off Season Interest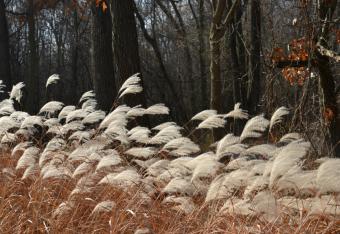 Even though most ornamental grasses go dormant in winter, that doesn't mean they don't continue to look spectacular in the landscape. For some species, this is when they are at their prime - such as this grouping of Miscanthus, which has delicate, cottony seedheads that turn white and bob in the wind from fall through early spring. This effect is most striking when viewed from a distance; use one of the larger grass species as a backdrop behind other plantings and allow the seedstalks to remain until early spring when new growth begins from the base of plant.
Complementary Colors
The grass family is so full of colored foliage and seedheads, so it is a great source when you are looking for just the right match for other colorful species. In this case, the seedheads of pink muhly grass bring out the color of the pinkness of other species nearby. In addition to pink muhly, purple fountain grass, Japanese forest grass, blue fescue, blood grass, and zebra grass can be used for their vivid colors.
Sturdy Groundcover
In place of lawns or other finicky groundcovers, a large ornamental specimen like deer grass is useful as a tough, drought-tolerant alternative. Planted densely, there is little space for weeds to compete and little effort is required to maintain their uniform appearance throughout the seasons. To keep a planting of ornamental grasses looking neat and tidy, cut the foliage to the ground once a year in fall or early spring.
Architectural Element
What grasses lack in showy flowers, they make up for with architectural style. Many have gracefully arching stems that form a low mound, while others, like this specimen of feather reed grass, stand upright, punctuating the landscape with their bold presence. Many ornamental grasses can stand alone like this one; try using them singly in a pot or urn as a patio specimen.
Wildflower Meadow
Grasses form the bulk of the vegetation in natural meadows and can be seeded along with wildflowers to create a naturalized look on large, rural properties. The bobbing seedheads fit right in among the daisies and the seeds they produce are a boon to wildlife. If you're creating a meadow over a large area, you'll want to establish the grass by seed, which can be combined with a mixture of wildflowers and sown in spring or fall.
Annual Arrangments
Ornamental grasses are perennial plants by nature, but that doesn't keep their bold colors and soft textures from being used in annual flower beds. Here, purple fountain grass fits right in with a planting of coleus, salvia and lilies. In this case, the plants will only be used as seedlings and are typically pulled out with the other annuals at the end of the season.
Grasses can add interest to any landscape. Choose one or several that fit into your yard's natural setting or previously landscaped areas for the most pleasing results.