Outdoor Room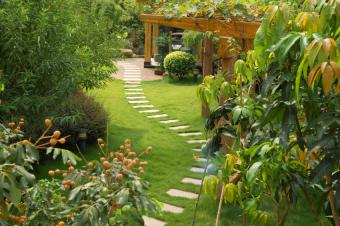 A narrow path opening to a larger, enclosed space creates a sense of enchantment in the landscape. Fill these secret gardens with lush, overhanging plants and provide a place to linger - in this case a pergola with benches makes it clear that this is a destination to relax in.
Strolling Garden
If you don't desire lawn space, fill the backyard with large, texture-rich perennials, leaving a path that allows you to meander through and enjoy the garden as it transforms with the seasons. If you're converting an existing lawn, you can leave part of it as a soft path surface, rather than installing more costly alternatives.
Softening the Edges
If you want plenty of lawn to play in, you can still frame it with a diverse border of perennial shrubs and flowers. By using sweeping curves in the design, the visual impact of the backyard's right angles and straight lines is minimized in favor of softer, more soothing organic shapes.
Swaths of Color
Large swaths of single plants, loosely painted across the canvas of the backyard, keep the landscape from becoming too cluttered. Here, the effect is achieved with spring bulbs, a great choice for a yard that is surrounded by tall deciduous trees because the bulbs emerge from dormancy and flower in the dappled sunlight just as the trees start to leaf out in early spring.
Relaxed Patio Garden
An overhead pergola shelters a simple concrete patio from the sun's rays by day, while subtle lighting and an enclosed fire pit make it an inviting place to relax after the evening meal. A combination of potted plants and foliage spilling in from the adjacent garden add to the overall ambiance, making a smooth transition between indoor and outdoor spaces.
Subtle Sounds of Water
Most people find the sound of a small burbling brook more enjoyable to live with than a plunging waterfall in the backyard. This understated water feature captures the look of a natural spring and the ground level lighting makes it quiet place to venture out for a twilight meditation.
Forest Garden
Shade can be an asset in the backyard, opening the door to the world of understory plants - including many of the most elegant and intriguing specimens in the plant kingdom. Here, colorful azaleas light up the space and blend seamlessly with the subdued burgundy foliage of a Japanese maple. It is an Asian-inspired landscape without the overt elements of a traditional Japanese garden.
Informal Cottage Garden
Overflowing with flowers, butterflies and honeybees, there is nothing in the way of formal design here, only an abundance of charm and playfulness. Note the significant use of vertical space, however - the hanging baskets, head-high flower stalks and rustic wheelbarrow planter make this garden anything but boring.
Formal Landscape Architecture
Symmetry and repetition create a formal, stylized look, illustrated here with the arrangement of square shapes and the two palms trees that make distinct punctuation marks in the overall design. Keeping it simple with plants that have a uniform architectural look throughout the the year is key to making this style of landscape work.
Lush and Color-Coordinated
For entertaining, a large hard surface is helpful. This patio is enveloped in plant life - from potted arrangements to shrubbery and small trees - that provide a lush backdrop and sense of privacy. Note how the purple fountain grass and terra cotta pots match the color scheme of the patio.
Pure Elegance
This landscape is obviously a big-budget production, but the design principles it illustrates can be applied in more modest ways. A single, strong focal point, clear delineation between foreground and background and minimal use of color make a sublimely simple and artistically refined composition.
No matter what style you prefer, let one of these ideas be your inspiration to create the backyard landscape of your dreams.