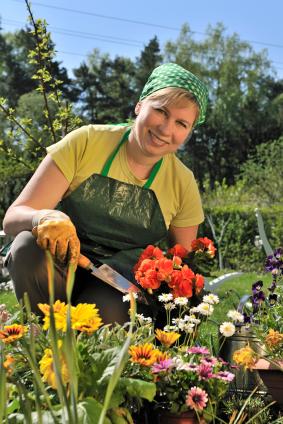 Gardening in Zone 6 offers farmers and gardening enthusiasts with a wealth of planting opportunities because this zone is accommodating to both warm- and cold-weather plants. In Zone 6, it is not uncommon for vegetable gardens and flower beds to be home to seasonal plants that can thrive regardless of the outside temperatures, resulting in a nearly year-long growing period.
Characteristics of Zone 6
Both the USDA and Sunset magazine provides zoning maps to help the nation's farmers and gardeners maximize their crops, but if you take a look at both maps, Zone 6 will appear differently between the two.
According to the USDA Hardiness Zone Map, Zone 6 starts in Massachusetts and Rhode Island on the East Coast and then it extends south and west through select regional parts of New York, Pennsylvania, West Virginia, Ohio, Indiana, Michigan, Illinois, Missouri, Kansas, Colorado, Utah, Nevada, Idaho, Oregon, and Washington. It also branches out slightly into north-western Oklahoma, northern New Mexico, Arizona and northern California. This is different than the Zone 6 that is featured on Sunset's Climate Zone Map. On Sunset's map, Zone 6 is very small and it is contained within Oregon's Willamette Valley.
Differences Between the USDA and the Sunset Zone Map
The difference between the maps is because the USDA only uses the coldest winter temperature average when determining the 26 hardiness zones included on their map, which in the case of Zone 6 is 0 to -10 degrees Fahrenheit (-18 to -23 Celsius). Meanwhile, Sunset takes several other variables into consideration when determining their planting zones, of which there are 45. Besides temperature, Sunset's zone map takes into account several other factors that can have an impact on the health and vitality of growing plants, including elevation, latitude, humidity, rainfall, wind, soil conditions, and other microclimate conditions. This supplies gardeners and farmers with much more detailed and targeted information about their specific locations so they can make better planting decisions for their individual regions.
The Growing Season in Zone 6
According to Sunset's Climate Zone data, planting and growing in Zone 6 usually runs from mid-March (after the last frost) through mid-November. The climate in this zone is hospitable to all but the tenderest of plants and those that require hot and dry weather in order to excel.
Zone 6 also happens to be a region where the weather can change abruptly. Winter or summer can sometimes come early or last longer than expected and strong seasonal storms can wreak havoc on gardens making the climate unpredictable at times. These factors can have an impact on the average growing season and they should be factored in when planning your gardens.
What to Grow in Zone 6
Thanks to the long growing season and generally mild temperatures, Zone 6 offers a great variety in planting and growing options. The flowers, fruits, vegetables, and trees and shrubs listed below all do extremely well in this hardiness zone.
Full Sun Perennials
Amsonia
Bee Balm
Black-Eyed Susan
Bleeding Heart
Clematis
Coneflower
Coral Bells
Daisy
Daylily
Geranium
Salvia
Violet
Yarrow
Full to Part Shade Perennials
Baneberry
Bugbane
Goatsbeard
Helleborus
Hosta
Meadow Rue
Moody Blues
Solomon's Seal
Deciduous Shrubs
Alabama Croton
American Cranberry Bush
Azalea
Blueberry
Butterfly Bush
Cinquefoil
Dogwood
Forsythia
Honeysuckle
Hydrangea
Jasmine
Quince
Rose
Rose-of-Sharon
Witchhazel
Conifers
Atlas Cedar
Cypress
Fir
Hemlock
Juniper
Pine
Deciduous Trees
Alder
Ash
Beech
Birch
Box elder
Buckeye
Butternut
Cherry
Crabapple
Elm
Hickory
Magnolia
Maple
Oak
Pear
Pecan
Persimmon
Poplar
Walnut
Fall and Winter Vegetables
Arugula
Beets
Broccoli
Brussels Sprouts
Cabbage
Carrots
Cauliflower
Collard green
Chives
Lettuce
Parsnips
Radish
Spinach
Swiss Chard
Turnips
Spring and Summer Vegetables
Beans
Cantaloupe
Corn
Cucumbers
Eggplant
Okra
Onions
Peppers
Potatoes
Pumpkin
Squash
Tomatoes
Watermelon
Zucchini
Zone 6 Is a Gardener's Delight
Planting and growing in Zone 6 is enjoyed year-round by gardening enthusiasts because all throughout the year, there are things that can be done, be it tilling the garden in early March to pulling the last bunch of radishes out of the ground in early December. There are even gardening tasks you can do when the weather outside has turned too cold, such as harvesting seeds from your season's final offerings so you're prepared to plant all over again come the thaw.